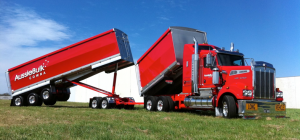 A trailer is generally an unpowered vehicle towed by a powered vehicle. It is commonly used for the transport of goods and materials.
Whether its heavy demolition work, bulk quarry, or grain fertilizer bio-solids to hotmix, there are many trailers that will not only look good, but will exceed all your expectations.
At Clarke Equipment, we only sell only quality trailers from leading companies.
These include:
Please click on the links above to get more information on the supplier and the main products that is available to be purchased through Clarke Equipment.